We live in an ever-changing world.  That kind of goes without saying.  The constant and increasing speed that technology is introduced is staggering.  Getting closer to being too fast for the general consumer.
This pace of development led to the big boom in electric cars we've seen recently.  With Tesla, Chevrolet, Faraday, Toyota, Nissan and many others jumping in to create the vision for the perfect electric car.  Some for the future and some for the every day consumer.
As high-tech gets more accessible to the everyday consumer, we see more radical and bold moves from manufactures to make the next cutting-edge vehicle.  This leads us to the Toyota Mirai.
The new 2016 Toyota Mirai use some impressive technology that isn't exactly as talked about it as much as it should be.
Fuel cell tech is definitely an interesting concept, basically whereby the only exhaust from the vehicles operation is water.
I remember when I was younger I had bought a kit from a local science museum that was a hydrogen fuel cell powered car.
It was a little kit that consisted of everything I needed to build a simple fuel cell and simple wheels on axles.  It was my first exposure to this cool technology.
The cost of fuel cell tech is immense compared to other propulsion methods like the internal combustion engine or even electricity.
But anyway, the 2016 Toyota Mirai is looking to create some sort of incentive for manufactures to jump on hydrogen cell.  With more development, fuel cell technology could be much more affordable to produce and sell.
The Specs-2016 Toyota Mirai:
| | |
| --- | --- |
| Vehicle Type: | Midsize Sedan  |
| Powertrain: | Hydrogen Fuel Cell |
| Gearbox: | 1-Speed Transmission |
| Power: | 151 HP (est.) |
| MPG: | Up to 67 Highway, 67 City  |
| Torque: | 247 Lb-Ft. (est.) |
| Length: | 193 Inches(est.) |
| Width: | 72 Inches (est.) |
| Height: | 61 Inches (est.) |
| Top Speed: | 111 MPH (est.) |
| Seating: | 5 |
| Wheelbase: | 109 Inches  (est.) |
| 0-60 MPH (0-120 KPH): | 9.4 seconds (est.) |
| Base Price: | $57,000 (est.) |
Hydrogen Fuel Cell:
The way fuel cells function is pretty impressive.  It's a true modern technology that really should be used to move our world forward (my two cents in there).
A hydrogen fuel cell functions by converting chemical energy from a fuel into electricity through an electro-chemical reaction with hydrogen and oxygen or another oxidizing agent.
A major difference between fuel cells and conventional batteries is that fuel cells require a constant flow of air, or oxidizing element.  Hydrogen is usually from some sort of (usually) renewable fuel or natural gas.
Truly some science fiction stuff.
The issue with changing the propulsion system in a car from gasoline and even home charging to a degree is the infrastructure.
Without charging stations or fueling stations nearly as plentiful as gasoline pumps, the issue is consumers not being able to find places to charge or refuel while they're on the road.
This sort of thing is a massive hurdle for manufactures of cars like the Toyota Mirai.  There may be a perfect home solution, but out on the road, the Mirai and even Tesla's aren't equipped to go everywhere.  They need specific charging/refueling stations and in the electric cars situation, charging can take a good chunk of time.
The Exterior – 2016 Toyota Mirai:
There is a large amount of technology underneath the panels of the 2016 Toyota Mirai.   Fuel cell technology is immense and Toyota really made a good offering with it in this car.
The exterior design isn't as convincing though.
Toyota's new Mirai looks like a very angry Prius.  Essentially, that's what it is.
Proportions on the new Mirai are interesting to say the least.  The front end has massive side air ducts that aren't air ducts at all.  They're sealed off for the most part.
The front end is styled much more aggressively than it needs to be.  The massive intakes that aren't really there along with the slender headlight assemblies make for a style that a fuel cell-powered car that barely does 0-60 in 9.5 seconds a bit confused.
I get that a radical idea makes for a radical design, but there are so many other ways to design a futuristic car to suit itself rather than tacking on massive air ducts.  Just look at the Tesla Model S.  No air ducts.  It doesn't need them.  And the front end of the Model S is just lovely.
From the side, the Mirai's proportions are a bit more off than the the front.
The silhouette of the roof is nice, and is pretty sharp versus most Toyota's with a softer look.
Toyota added in a blacked-out C-pillar and a floating hood element.  They work well, but things fall apart beyond that.
The different swooping lines in the side of the car's body do look nice, but the wheel arches are just way, way too small.
The whole side of the car looks incredibly cheap because of how  small the wheel well are.  This car's whole design would be much better off on a sportier car, versus a car made for environmental purposes.
Just like the front of the car, the whole thing is just overly aggressive for what it is.
Things aren't much better in the back, either.  The weird, bubbly proportions and seemingly random shapes make the Mirai look outdated and confused.  Especially for $57,000.
Overall the styling of the 2016 Toyota Mirai is just misplaced.  The car makes sense as a whole, but it's not styled properly for what it is.  What do you all think?
The Interior-2016 Toyota Mirai:
The inside of the 2016 Toyota Mirai is definitely for people who are more tuned to the tech-savvy side.
There are three screens from the center console to the upper dashboard for the driver and passenger.  The lowest one is the A/C controls, then you have the classic media controls above that, and a screen that acts as an instrument cluster.  
It is a bit much, but that's just the beginning here.
You can see a lot of Lexus poking through the interior design.  The boxy air vents, shiny materials and interesting line choices.
Toyota's usual design of its own special gaudiness and odd off-centered look is in the Mirai as well.
The designers of the Mirai redesigned a new type of shifting system.  It's a little knob on the center stack for reverse, neutral and drive.  Very simple and easy to understand, I presume.
Most of the controls are touch-sensitive in the Mirai.  Temperature is changed with a slider and the rest of the infotainment and climate controls appear to be touch sensitive.
Overall the interior is a very Toyota one.  Nothing more radical than its drive system.  The designers have made decent work in here.  Nothing really groundbreaking, but not bad.
The Performance – 2016 Toyota Mirai: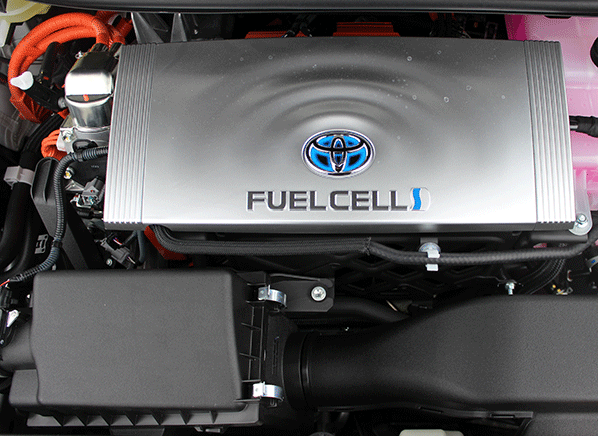 As for performance metrics from a standard car perspective, the Toyota Mirai is definitely a bit lagged behind competitors.
From a numbers perspective, we're looking at a four door economy car with 151 horsepower and a 0-60 time (not that anyone who gets a Mirai really cares about) of 9.4 to 8.6 seconds depending on who you ask.
The Mirai isn't about performance though.  It's about reinventing the car into a hydrogen-powered cruiser.  
And the Toyota Mirai does pretty much just that.  If the fuel is a problem for you, Toyota offers 3 years or $15,000 worth of fuel.   That makes things interesting.
The car also issues a driving score to the driver dependant on a number of factors.  From how you drive, the car will tell you how to get the most out of the technology.  A nice little party trick.
Another interesting perk of the fuel cell technology is that you get instant torque.  This means the Mirai can maneuver through traffic pretty decently, even though it only packs 151 horses.  You won't win races, but you'll be able to comfortably keep with other cars.
Onto the fuel economy, the Mirai obviously does things very well.
67 miles per gallon in both the city and highway does sound odd (since there's no difference) but that's the beauty of hydrogen fuel cell.
Overall the Mirai does impressively well for such a young technology.  It's a boundary-pusher that I do hope gains a following.  Or at least some more infrastructure development.
If you're looking for Tesla P100D performance, you won't find it here.
Sum It Up:
The 2016 Toyota Mirai is a step in the right direction for alternative-energy powered cars.  The styling could use some help, but the drive trains is what sells it.  Also, the $57,000 price tag doesn't help much.  
Overall, I think things for the Mirai are headed in the right direction with the right hands.  
If any car maker is to make something like the Mirai, it's Toyota.  They've pioneered the Prius and have a good track record with these types of cutting edge projects. I just wish the price tag was lower.  For a car with an alternate power source, the Mirai is a bit pricy.