The Ford Fusion seems to be the go-to choice of pretty much everyone who just got their first big-kid job and need to lease a car to get some good auto credit.  Seriously, it seems like everyone either in or just getting out of college leases a Fusion.  Do you remember when everyone had a Ford Taurus in 2002 and on?  It's the same thing.
And that fact is because the Ford Fusion is so obtainable and looks pretty good as a sedan.  It's also reliable, fuel efficient, well equipped and decently spacious.  Through its success, the Fusion now comes in multiple trim levels in its range with impressive names like "Titanium" or "Energi" or "Platinum".
The most recent 2017 Ford Fusion Energi is the most premium looking iteration yet, and is waiting at lots for millennials to scoop them up.
The Exterior:
The 2017 Ford Fusion Energi is a very sharp car.  It's one of those vehicles where the rims can make or break the whole design, and here it looks great.  While I wish they'd get rid of that outdated antenna on the roof, the rest looks top notch.  The front is very assertive and just like the boys on Top Gear UK said, at first glance you'd think it's an Aston Martin.  You have to applaud Ford for their work on this midsize sedan.  Plus, you can see that little glowing blue ring by the wheel well for the electrical outlet to charge the batteries.  Neat stuff.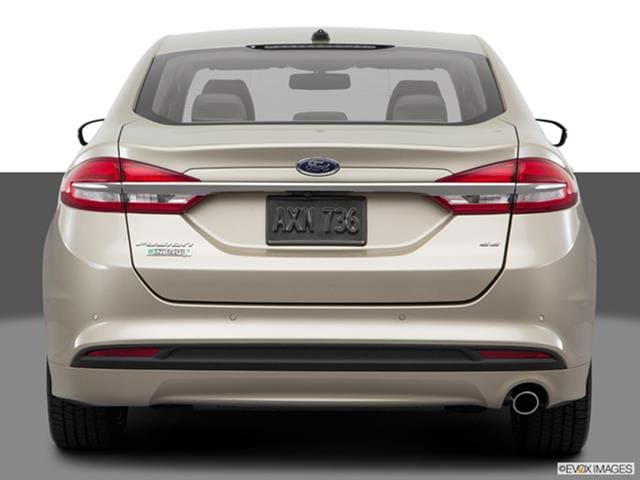 Unfortunately, you'll need to get either the Titanium or Fusion Sport model to really get a decent looking rear end.  Otherwise, things are pretty plain and chunky.  It is clear this is an evolution of previous generations, but the issue with a lot of designs is that they have a low ceiling; They can only get so good.
Even on the Fusion Sport that features quad exhaust tips, the whole design is very conservative.  But that's something Ford does very often with their performance cars.  Just like the Taurus SHO, Ford just adds small aesthetic changes and bigger power.
Overall, the 2017 Ford Fusion is a good looking sedan for pretty much anyone.  They fly off the lot like candy and come in so many flavors for everyone to enjoy.
The Interior:
The interior of the 2017 Ford Fusion Energi is just as appealing as the exterior is.  Everything is very "2017 college student modern" in here.  Infotainment is easy to use, the gauges are digital and easy to read, ergonomics are great and it is mass production at its finest.
Ford adopted the turn-dial transmission control which does make driving that bit less involving compared to a traditional shifter, but it's trendy.  Same thing goes for how Ford made the tachometer in a lot of their models a little circle in the dash.
Ford offers pedestrian detection for the first time ever in the U.S. on the 2017 Ford Fusion Energi.  Like I've said in the past, I love to see technology trickling down from the super expensive cars like Mercedes S-Class and others, being available in every day commuter cars like this new Ford Fusion.
The Performance and Tech:
The electric battery inside of the 2017 Ford Fusion is a 7.6 kilowatt system that is able to drive the Fusion on electricity alone for 19 miles, and with the 2.0 L four cylinder, you get a combined range of 500 miles.  The battery can charge in around 2.5 hours and is able to recapture up to 95% of the energy lost in braking to heat.  On electric drive alone, you can reach a top speed of 85 MPH.  The Fusion also restricts the engine from turning on if you have to pass, unless you really use a heavy foot.
The 2.0 L four cylinder, when combined with the electric motor, produces a total of 188 HP.  Overall, you can expect 42 miles per gallon on the highway from the Fusion Energi, which is similar to the Fusion Hybrid.
When the gasoline engine turns on, it is smooth and some reviews said they had to check the power source to make sure it was on.  However power is still low overall, but hybrids are coming a very long way from the original Prius.
2017 Ford Fusion Energi – Specs:
| | |
| --- | --- |
| Vehicle Type: | Midsize Sedan  |
| Powertrain: | 2.0 L 4 cyl Hybrid  (Est) |
| Gearbox: | 7-speed automatic (est.) |
| Power: | 188 HP (est.) |
| MPG: | 42 Highway, 28 City (est.) |
| Torque: | 190 Lb-Ft. (est.) |
| Length: | 192 Inches (4.87 Meters) (est.) |
| Width: | 73 Inches (1.85 Meters) (est.) |
| Height: | 58 Inches (1.47 Meters) (est.) |
| Wheelbase: | 112.2 Inches (2.84 Meters) |
| Top Speed: | 104 MPH (167.37 KPH) (limited) |
| Seating: | 5 Adults |
| 0-60 MPH (0-120 KPH): | 8 Seconds (est.) |
| Base Price: | $31,995 (est.) |
Sum It Up:
It's hard to get excited about an electric car, if I'm honest.  But, I think it's more important to look at the progression of the electric car and hybrids.  Old hybrids are shotty things; Jolty, uncomfortable, hardly efficient and just bland.  But now, we have flagship cars like LaFerrari, McLaren P1 and Porsche 918 making hybrids the coolest cars out there.
As for the 2017 Ford Fusion Energi, it is a great entry into the history of Ford and their growing number of hybrid options.  I do genuinely believe this is the sort of path we're heading down, with more and more hybrids being introduced by the day and each having their own spin on the formula.
Do you all think that we'll see all electric cars in the coming years?  Or do you think we'll hold on, just a bit longer, to the sacred V12's and V8's of the world? Let me know in the comments below!