The Mini line up is pretty difficult to tell apart at first glance, from the Cooper to the Clubman, they share some deep similarities.  Mini as a brand has been focusing on their not-so-mini lineup to help boost sales and show everyone they're not a little car maker anymore.  These cars include the Clubman and the Countryman.  Though gaining traction there is difficult, we see that the new Mini's are making a big statement (Mini pun).  The new 2017 Mini Country van is pretty impressive.  It is definitely a much more mature Mini than the fun youthful style of Mini's we see on the road today.
The 2017 Mini Country van is the youngest of the bunch of Mini's, but it looks the most mature and comfortable.  Here is what else we found:
The Exterior: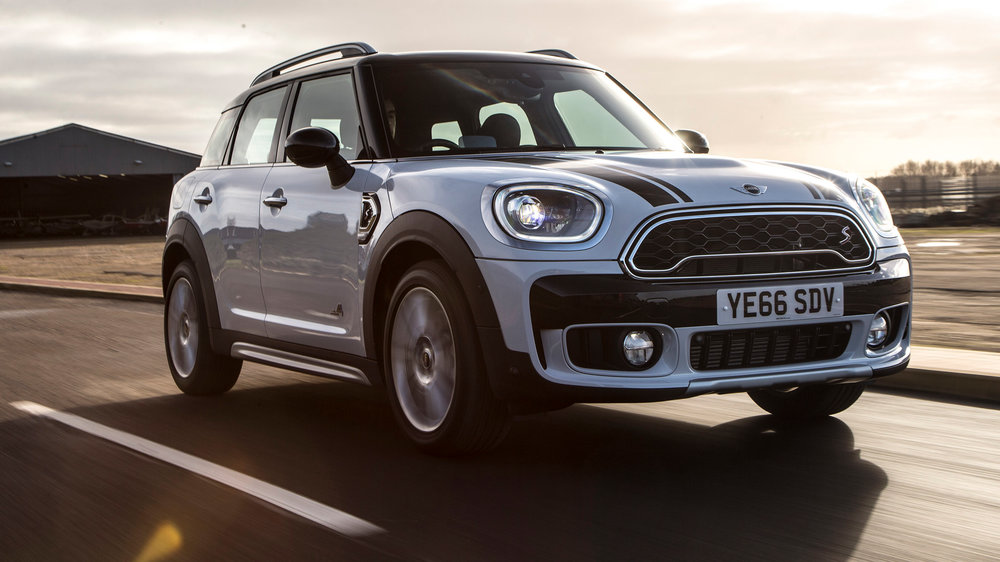 While this is supposed to be the big and capable Mini, it still looks fun and delightful.  It almost seems like the 2017 Country van will compete with the 2017 Subaru XV Crosstrek.  There are a lot of different variants for the 2017 Mini Cooper Country van (Mini's website says 10 million different combinations on their online build tool) and each has its unique flavor, which is something that Mini is very good at.  The amount of customization for each Mini model is what makes each one so cool.  Mini also offers the JCW package for some added sportiness and surfboard stickers.
I think this image sums up the 2017 Mini Country van pretty well.  It looks at home here on some sandy trails, and doesn't look like it's struggling at all.  The 2017 Mini Cooper Country van can handle it all, and look good doing it.  We do have to bring up the 2014 Country van as well.  The new one looks much more off-road ready and adventure capable, which sets it apart from other vehicles in the line up and the competition.  It's all about those little charms these days.
The Interior: 
It's amazing what quilted leather will do for an interior, isn't it?  Anyway, Mini always has their special touches inside the cars they build.  That giant circle in the center of the dashboard used to be the tachometer in older models, but now it is a full infotainment system which seems fitting for moving with the times.  Although the screen does seem small, BMW are the brains behind the Mini so it is intuitive and easy to use.
Though the interior isn't as premium as other vehicles out there, it is a fun looking place to sit.  The air vents remind me of Volvo's, and I love the ambient lighting we see here.
There are a ton of options to chose from on the inside of the 2017 Mini Country van.  For example, there are three different steering wheels you can choose and more than eight different material colors and trims.  Again, I praise Mini for making such unique cars as they do.  Brand Identity!
The Performance:
While you won't be able to walk anyone in a Mini Country van, you won't be at a stand still.  Mini's are famous for not being solely fast, but for being incredibly fun to drive (especially in a manual).  The 2017 Mini Cooper Country van offers dynamic damper control and electronic performance control in stressful driving.  The Mini Country van engine options offer a 1.5 L three cylinder turbo and a 2.0 L turbo four.  The website says, "The super powered version of an already turbocharged engine. With a full 2 liters of raw power, this engine isn't afraid of a little competition."  Which definitely makes it sound much more powerful than it is.
Horsepower numbers range from 134 HP for the three cylinder, and 189 HP for the 2.0 L four cylinder.  Which, being BMW derived, is kind of a let down, but Mini's aren't about quarter mile times!  They're about fun!  LOOK AT THIS FACE!
The Specs:
| | |
| --- | --- |
| Vehicle Type: | Small SUV |
| Power Plant: | 1.5 L 3-cyl T , 2.0 L 4-cyl T |
| Gearbox: | 6-speed manual, 6-speed automatic (est.) |
| Power: | 134 – 189 HP (est.) |
| MPG: | 33 Highway, 25 City (est.) |
| Torque: | 162 – 207 Lb-Ft. (est.) |
| Length: | 170 Inches (4.31 Meters) (est.) |
| Width: | 72 Inches (1.82 Meters) (est.) |
| Height: | 61 Inches (1.54 Meters) (est.) |
| Top Speed: | 124 MPH (199.5 KPH) (est.) |
| Seating: | Up to 5 adults |
| Wheelbase: | 105.1 Inches (2.66 Meters) (est.) |
| 0-60 MPH (0-120 KPH): | 9 seconds (est.) |
| Base Price: | $20,000 (est.) |
Sum it Up:
Mini is a very special manufacture, which is why it's okay that they don't sell like wildfire.  It's a very special market that Mini appeals to, especially the Country van.  While I do think they should showcase it as a mature Mini, I don't think marketing it as a normal car helps it.  It is a very delicate balance for Mini, since they are a more specialized brand in what they do.  No one makes a Mini like Mini.  This is especially evident when talking about the Subaru CrossTrek.  While the Subaru is a great little off-road golden retriever, the Mini does the same formula in a special Mini way, and that's what makes the brand strong.
The 2017 Mini Country van is available in showrooms right now, so if you like customization and the most fun looking and driving vehicle out there, go ahead and snag one up.