Every time I write about Volvo, I need to bring up its nerdy past.  If you're familiar with the car world, you'll know that Volvo has always been the choice for pocket-protector aficionados.
Even Volvo's performance cars with "R" badging and big wheels are boiled down to be safe, practical slightly boring cars.  So you can tell Volvo is trying to break its reputation of nerdy-ness.
Their most recent attempt takes us to Volvo's new design language.  The new Volvo is a much more sophisticated, stylish, and upscale spectacle and it is received very well.
There are a couple of key vehicles in the Volvo's line up that are spear-heading this new operation and again, they are being received very well by the market.
Those two vehicles are the Volvo S90 and the 2017 Volvo XC90.  Both are exceptional vehicles.
Volvo's new XC90 is a big SUV with every bit of the new Volvo face on it.  Volvo (seemingly) learned from the past of boring automobiles to make these new cars.  Still acting on the big and safe formula that got Volvo to where they are, while executing in an incredibly sharp style.
The 2017 Volvo XC90 is getting praise across the board.  Which doesn't surprise me at all; This new SUV is absolutely gorgeous.
The Specs-2017 Volvo XC90:
| | |
| --- | --- |
| Vehicle Type: | Luxury SUV |
| Power Plant: | 2.0 L T 4-cyl / 2.0 L T/SC 4-cyl |
| Gearbox: | 8 speed automatic |
| Power: | 250-400 HP |
| MPG: | Up to 26 Highway/20 City (Eco) |
| Torque: | 295 Lb-ft – 472 lb-ft. |
| Length: | 195 Inches |
| Width: | 79 Inches |
| Height: | 70 Inches |
| Wheelbase: | 117.5 Inches |
| Top Speed: | 120 MPH (est.) |
| Seating: | 5 – 7 Adults |
| 0-60 MPH (0-120 KPH): | 6 seconds |
| Base Price: | $45,750 (est). |
The Exterior-2017 Volvo XC90: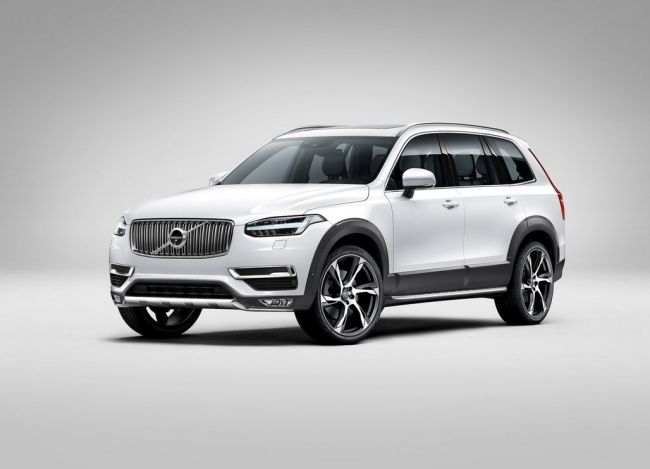 The outside of the 2017 Volvo XC90 has a very strong road presence.  I saw one just yesterday in my rear view mirror and it was just gorgeous.  The lines are very horizontal and sharp.
The nose is very bold and meshes very well with the slimmed head lights with horizontal LED signatures.
There are some changes from model to model, such as the T5 Momentum and T6 Inscription.  A waterfall grille can be changed into a more meshed looks which does look better.
Even though the trim levels are separate prices, Volvo did a great job hiding the cheaper models from the more expensive ones.  Usually, having a cheaper variant means that the vehicle will look cheaper, but that is not the case here.
The cheaper models do lack some pizzazz that the T6 gets, but the T5 looks like a more calm SUV.  The 2017 Volvo XC90 T6 has a more dynamic look to it.
The side view of the 2017 Volvo XC90 is one you would never put to a Volvo.  It is sleek,  muscular, and has a great looking long front end.  It is a very buttoned up layout with no nonsense lines to intrude on its razor sharp layout.
From the back, the 2017 Volvo XC90 brings a strong and wide stance to the big SUV.  The vertical tail light design that has dawned many Volvo's adds a look of wide hips and narrow passenger cell.  This look makes any big car look more athletic, and works very well on the XC90.
Overall, the 2017 Volvo XC90 is a very upscale and luxurious looking SUV from the inside and outside.  We'll get into the interior right now, and I hope you're sitting down.
The Interior-2017 Volvo XC90:
The inside of the 2017 Volvo XC90 is so beyond anything Volvo has ever done; It's remarkable.
Everything is very cleanly laid down and done as some sort of modern-art masterpiece.  The portrait styled infotainment set up is actually very easy to use, which is quite the achievement in today's world.
Usually screens that replace multiple functions just turn into complex tablets that no one can figure out how to use, so the fact that Volvo actually made their system simple to understand is an art form in itself.
The use of leather and fine wood all around the interior makes for a very modern looking landscape.  The ride is very comfortable and refined, which is also surprising coming from a freshly redesigned brand really.
You can seat 5 adults in the 2017 Volvo XC90 in the T5 trim.  In the T6 trim, you can seat up to 7 people.  It is a bit annoying you have to shell out more money for a higher trim level if you have more children.  Hopefully that gets fixed.  Otherwise, the 2017 Volvo XC90 is near perfect.
The Performance-2017 Volvo XC90:
Volvo only supplies the 2017 XC90 with a four cylinder line up.  That might sound a bit underwhelming at first, but there's more to the little-engine-that-could's story.
The base engine in the 2017 Volvo XC90 is a 2.0 L turbo charged four cylinder that produces an adequate 250 HP.  The upper trim levels like the T6 get a compound forced-induction 2.0 L four cylinder that packs a healthy 316 HP.  Volvo is a pioneer of this super charging and turbo charging technology is regular car use, and it has worked for a long time.
The 2017 Volvo XC90 has won award after award for being safe and reliable even with technology that isn't standard issue in the car world today.  Very impressive.
Sum It Up:
The 2017 Volvo XC90 is one of the most impressive SUV's on the market.  The driving dynamics, comfort and luxury of the XC90 put it in a high place and there are a only a couple things that could be fixed on a mid-cycle refresh.
The 2017 Volvo XC90 has been released, so if you need one of the best SUV's out there, find your local Volvo dealer.