Cadillac is really going through some sort of puberty right now.  Trying to change your target market as drastically as Cadillac is makes for one daunting task.  But they seem to be doing quite well.  Cadillac's have always been synonymous with your grandpa's car, and the brand got fed up with having an average owner age of 65 years old.  
The Escalade was introduced to the Cadillac family in 1999, and was quite literally a rebadged GMC Yukon Denali.  This sisterhood between the Yukon and Escalade continues to this day, but the similarities between the two are few and far between (thankfully).  Through its lifespan, the Escalade has been pretty hideous.  There was hardly anything unique about it until recent years, and I still have a hard time justifying the massive machine.  Currently in its fourth generation, the Escalade is bigger and more imposing than ever.  So what's coming in the new 2018 Cadillac Escalade?
The Exterior:
Exterior changes will be pretty minimal for the 2018 model year.  Cadillac introduced a "Radiant Package" on the 2017 model, and the brand has been alive with this practice of spicing up old models with these unique packages aimed to stimulate sales (Like the carbon black package for the ATS and CTS: )  Read our review of the 2017 Cadillac Escalade here.
Escalades love attention.  It's in their nature.  With a lot more chrome than it probably needs, the weight of a full grown hippo, and the size to rival your kids school bus, the Escalade can be boiled down to one word: Immense.  The giant soccer mom mobile has come in a number of configurations over the years.
 The Escalade EXT was a personal favorite of mine solely for how hilarious it was.  To this day I still don't know what Cadillac was really thinking when they made it (and probably spent millions of dollars developing and producing it).  The Escalade EXT is interesting now solely because the news of the Mercedes-Benz X-Class has surfaced, kind of changing the tides of the whole luxury truck thing.  Could Cadillac respond and revive the Escalade EXT?  Probably not.  Before you get your hopes up, it probably won't happen.
From the back, you can see a bit of the GMC Yukon from which the Escalade is based. It doesn't look like its a direct copy, but similarities are there.  Escalades can be found on pretty much any Los Angeles driveway.  
The Interior:
The new Escalade interior does bring a trick up its sleeve, in the shape of the updated cue system.  The CUE system itself has been receiving some fire since it came out.  The system was clunky, the touch controls were just inaccurate, the layout was complicated, the system distracted you from the driving, the menus were complex…
A number of issues.  But over the years, the CUE system has been refined and reworked.  For 2018, the CUE system gets updates to look simpler than ever.  The menus are now big and bold, made to look like a smartphone screen.  
Now as for the actual interior, it is as Cadillac as it gets.  Leather and alcantara are everywhere here, with some dashes of cool wood across the dash and whole cabin.  Everything is big.  When you look back from the driver's seat, it seems like the Escalade goes on forever.  
The giant American SUV can house up to nine passengers, and everyone inside gets a fantastic amount of luxurious assortments.  Heated and cooled seats, heated steering wheel, driver HUD, lane-keep assist, park assist, adaptive cruise control, collision monitoring, rear seat entertainment, TV screens, massaging seats, all wrapped up in a 6.2L V8 package.  Upon sitting in the behemoth of a machine, I instantly was wondering why you would spend upwards of $100,000 for one…and I'm still wondering why you would spend $100,000 on one.
The Performance: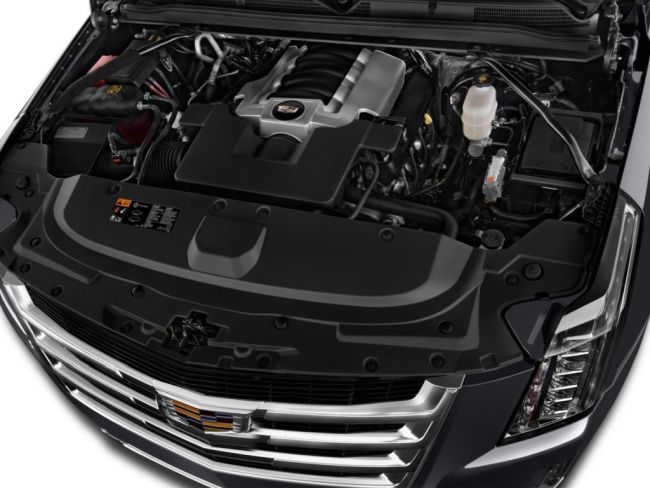 This is where the 2018 Escalade really gets silly.  Keep in mind that GM's 3.6L V6 would do perfectly fine in the Escalade.  Even if they had too, GM has turbocharged the 3.6L to output 400HP.  Plenty enough for Caddy's Hippo, right?  Well, someone at Cadillac said "NOPE." so the Cadillac Escalade comes with a heaping 6.2L V8.  In the rear wheel drive Escalade, just a little bit too much throttle makes the rear tires spin and you become a 5,000 pound missile on the roadways.
 The 2018 Escalade is excessive in honestly every possible and there's no way around it.  Driving it makes someone who is used to normal cars (like myself) just giggle the whole time. It's fast, which is not what you'd expect at all.  You're essentially driving an over-powered house with massage chairs.  
I could go on and on about how insane the Escalade is, but its performance is impressive.  I do think that it's realistic to believe that Cadillac will eventually trade the big block for the six cylinder, whether it's the 3.6L V6, 3.6L TT or even the 3.0L TT.  But this change probably won't happen until after 2018.
The Specs:
| | |
| --- | --- |
| Vehicle Type: | SUV |
| Powertrain: | 6.2L V8   |
| Gearbox: | 7-speed automatic (est.) |
| Power: | 540 – 600 HP (est.) |
| MPG: | 25 Highway, 15 City (est.) |
| Torque: | 520 – 600 Lb-Ft. (est.) |
| Length: | 189.5 Inches (4.81 Meters) (est.) |
| Width: | 76.5 Inches (1.94 Meters) (est.) |
| Height: | 55.3 Inches (1.4 Meters) (est.) |
| Top Speed: | 150 MPH (241 KPH) (limited) |
| Seating: | 7-9 |
| Wheelbase: | 108.1 Inches (2.74 Meters) (est.) |
| 0-60 MPH (0-120 KPH): | 3.9 Sec. – 3.4 (est.) |
| Base Price: | $72,000 (est.) |
Sum It Up:
The Escalades huge size and presence is really what makes it legendary.  It's very recognizable because of its pop-culture popularity.  The SUV doesn't care about anything besides being large and in charge.  We should be seeing some concepts of the new Escalade within the next couple of years.  In the meantime, we have the most in-your-face generation of the Escalade currently on sale.  They will surely be outdated soon, so enjoy their massive stature while you can.  We should expect a release date for the 2018 later on this year.