The world of big family SUV's is an incredibly competitive place nowadays.  Chevrolet's Traverse has been a strong player in the segment, offering a lot of room for an agreeable price.  The first generation Traverse was introduced in 2009, and is now going into its third design phase.  It is a comfortable family cruiser with a load of options for everyone inside.  
The great thing about the current Traverse is that it pricing starts at around $28,000 and they lease incredibly well.  I do enjoy the current Traverse, even though it is a bit outdated.  Things are changing, though.  Chevrolet is redesigning the 2018 Traverse,  and I just really hope they're done with those "Real People, Not Actors" commercials…
The Exterior:
The 2018 Chevy Traverse is being updated to fit Chevy's new design language.  This new CUV makes the old one look even more outdated which is unfortunate for people stuck in three-year leases.  The grille is much larger making for a more imposing nose than the previous slanted-back one.  The new Traverse also looks a lot more upscale than the current model.  The CUV still looks like a comfortable family transporter as well, with a more proportionate and connected design.
You can expect similar exterior colors on the 2018 edition as on the 2017 model, with the addition of this cool red-brown color.  I think the Traverse wears this color very well.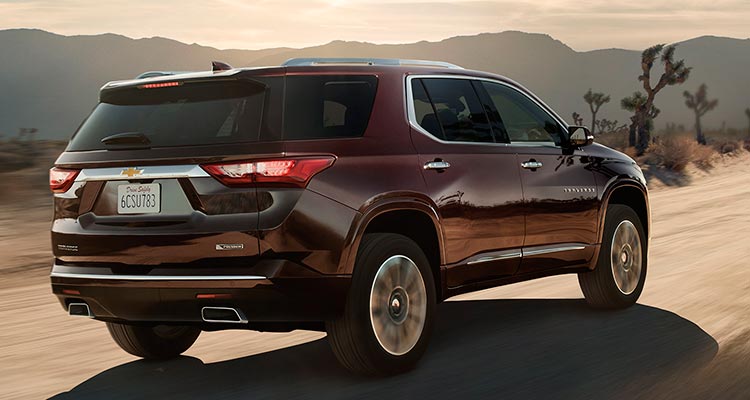 Overall the new one looks pretty good.  It doesn't look like a cheap option for someone on a more strict budget, and that is a good change.  I am a big fan of the rear of the vehicle personally.  I'll always love dual exhaust tips and slender tail lights like we see here.  Also the wheel arches are now boxy to match the lines of the vehicle.  The image here is most likely a top spec example, but the overall design is pretty appealing. The size of it does seem like the Traverse is stepping on the Suburbans toes, however they're pretty far apart on pricing. I just really hope we're done with those horrid commercials.
        No.  It is not a BMW.  No, it is not an Acura.  Yes, your acting is bad.
The Interior: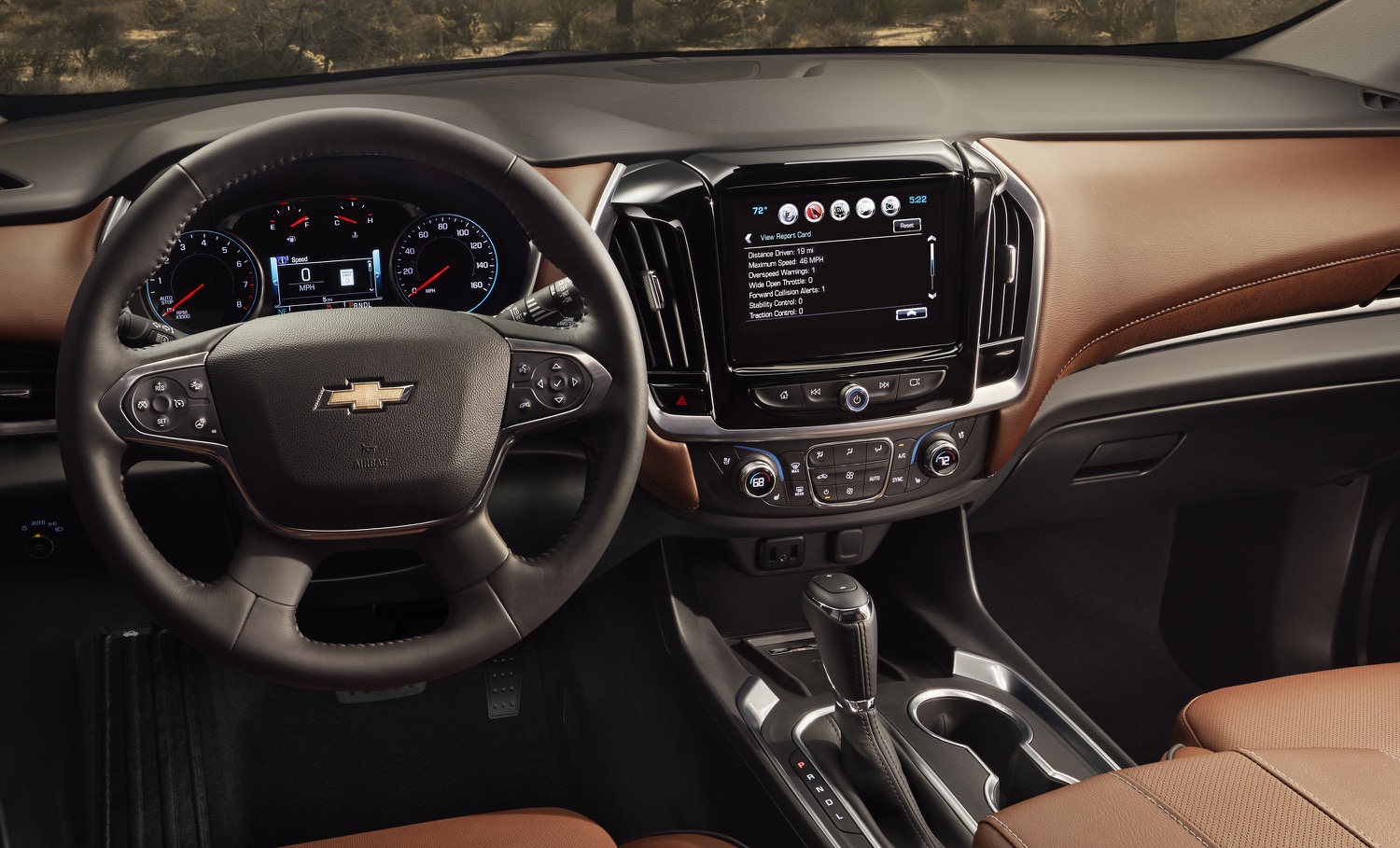 The updated interior follows the new Chevrolet cue so much so that it's easily confused with the Impala's.  But I do like the definitive transition between the driver and passenger cell.  The shifter is pretty classical, with the semi-automatic…buttons…on the top of the knob.  The infotainment setup does remind me a lot of the system we saw in the 2010-2015 Cadillac SRX, especially since the screen has the ability to raise up and store your wallet and other small objects.  But overall the setup is clean and modern.  Respectable for what the Traverse is and its modest price point.  
I do also like how the dashboard is broken up into what looks like leather and some sort of suede material.  This brings up a good point for designers of cost-effective cars and SUVs: you can break up the interior and add little dashes of a couple different materials, and make it look more expensive and upscale than it is.  I'm really  happy about the advancement cars have taken on a design front since about 8 years ago.  Good work Chevy, just work on your commercials, please.  
The Performance:
GM makes a fantastic 3.6L V6 engine that the company uses in a multitude of cars, SUVs and trucks.  That's not a bad thing, either.  The 3.6 is a great engine, and the way it is used and tuned for each application makes it very versatile.  Strap two turbochargers to it, and you get  this.  
Also, we might see a 2.0L turbo option.  Again, this engine is very popular in GM's whole lineup.  The 2.0L turbo four as a concept is popular in pretty much every manufacture today, and rightfully so.  It's a great combination of power and fuel economy.
So as for engines in the 2018 Chevrolet Traverse, expect the 2.0L turbo and 3.6L V6.  As far as towing capacity goes, a maximum rating gets to 5,000 pounds when properly equipped.  Also a cool note is that when equipped with all wheel drive, the system can disengage the rear axle to improve fuel economy.
The Specs:
| | |
| --- | --- |
| Vehicle Type: | Midsize SUV |
| Powertrain: | 2.0L T 4 cyl / 3.6L V6   |
| Gearbox: | 9-speed automatic |
| Power: | 272 – 305 HP (est.) |
| MPG: | 25 Highway, 18 City (est.) |
| Torque: | 260 – 295 Lb-Ft. (est.) |
| Length: | 204 Inches (5.18 Meters) (est.) |
| Width: | 78.6 Inches (1.99 Meters) (est.) |
| Height: | 70.7 Inches (1.79 Meters) (est.) |
| Top Speed: | 150 MPH (241 KPH) (limited) |
| Seating: | Up to 8 passengers |
| Wheelbase: | 120.9 Inches (3.07 Meters) (est.) |
| 0-60 MPH (0-120 KPH): | 7.8 sec. (est.) |
| Base Price: | $28,700 (est.) |
Sum It Up:
The new Chevy Traverse will have a release date later this year as a 2018 model.  While I'm not crazy about Chevrolet as a brand (solely blaming their commercials), I do like this new Traverse.  The SUV has always been a good model for Chevy, and I think this new one will be just as good, if not better.
Chevrolet has really taken a hold of the SUV market as well.  They have the Trax, Equinox, Tahoe, Suburban and Traverse.  Pretty much their whole lineup has been redesigned, so no matter what vehicle you might be looking for, the bow tie has you covered.  You can spec out your Chevy here: http://www.chevrolet.com/ and read more about the new Avalanche here.