The GMC Sierra is part of GMC's line up, part of GM's extensive line of brands.  GM shares their platforms for vehicles across a few different brands.  For example: the Chevy Traverse and Buick Enclave, and the GMC Sierra and the Chevy Silverado.  Even styling cues are shared across brands which hurts each brands ability to be wholely unique.  Take away the badges, and normal consumers can't tell the difference between vehicles even if they're from "different" brands.
But all of that aside, the GMC Sierra is a great truck undeniably.  It is imposing on the road and honestly feels like you can just kind of run over everyone else and only be minorly inconvenienced.  On top of that, the interior is very well laid out.  Though some trim levels have a pretty fake looking plastic wood insert on the dash and in other places, it's a very comfortable place to be.  With that all in mind, let's take a look at the 2018 GMC Sierra.
The Exterior:
From the outside, there are no big changes from the 2017 model.  However, it shouldn't be long before we see a full redesign from this current fourth generation GMC Sierra.  For now, the current generation doesn't look outdated or old just yet.  It is still a very masculine and muscular design that without a doubt has a couple years to go before it's time for an aesthetic change.
It also makes me happy that there aren't a whole lot of differences from the base model to the top-end trim.  The base 2018 Sierra still looks aggravated from the rear, and those steps on the bumper are a very good idea (I'm happy GMC made those things strong…I heard stories of Toyota's version breaking on people.) for someone to get into the bed easily.
Tim levels range from Base to Denali, and include SLE and SLT in the 1500 line.  Then there is the 2500 and 3500 for stronger towing capacity, which include identical trim levels and HD designation.  Also, like every extensive truck lineup, GMC offers different cab and bed lengths for each trim.  Options include crew cab, double cab, regular cab, long box and standard box.  This pretty much ensures every truck that leaves the lot is unique.
Here, you're looking at the 2018 GMC Sierra Denali.  The top end trim level for a luxurious GMC Sierra.  These come very well equipped and are chromed out so you look extra shiny on the road.
The Interior: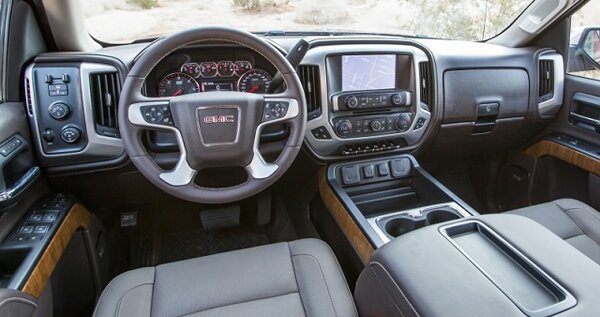 You can see those faux wood inserts I mentioned before here.  But the interior of the 2018 GMC Sierra is a very comfortable place, and it really feels like you're riding in a big land boat.  Also, the Sierra can come surprisingly well equipped for a truck.  Heated and ventilated seats, wireless phone charging, plenty of outlets, plenty of space, dual-zone climate control, easy to reach and understand controls, phone connectivity, navigation, the list goes on and on.  The ride is very comfortable, and with the available 5.3 L V8 you can get some serious work done.  Visibility is great on the inside as well which makes it easier to navigate the big truck.
With the standard cab option, you get no rear seat.  This is perfectly fine if you never really have more than one passenger.  If you do, though, you can opt for the crew cab or double cab which offers room for rear seat passengers.  
Above, we have the double cab option which adds rear doors and a second row of seating that will comfortably fit three adults, and features a fold away cup holder and arm rest.  Definitely more of a luxury feel for a workers truck.
The Performance:
There are four different engines that can power the 2018 GMC Sierra.  These include a 4.3 L V6, 5.3 L V8, 6.2 L V8 and a 6.6 L V8 diesel.  This gives you a horsepower range from 285 HP from the V6 option, up to a healthy 420 HP from the 6.2 L V8.  If you go for the diesel, you'll be getting 445 HP.  Torque is a different animal in the 2018 GMC Sierra.  The possible range is from 305 lb-ft all the way to a crazy 910 lb-ft.  This is broken down to 305 from the V6, 383 lb-ft from the 5.3 L V8, 460 lb-ft out of the 6.2 L V8 and the insane 910 Lb-ft from the 6.6 L V8 diesel.  It's all about picking your weapon here.
The 2018 GMC Sierra is a pretty hefty (can get up to 6,000 pounds) vehicle, so while the figures are high for HP and torque, 0-60 times are more similar to normal cars.  But if you're getting a truck like the 2018 GMC Sierra, what do you care about 0-60 times? With 910 lb-ft of torque, you can tow a high school.
The Specs:
| | |
| --- | --- |
| Vehicle Type: | Truck |
| Power plant: | 4.3 L V6, 5.3 L V8 , 6.2 L V8, 6.6 L V8 (D) |
| Gearbox: | 8-speed automatic (est.) |
| Power: | 285 – 445 HP (est.) |
| MPG: | Up To 24 Highway, 18 City (est.) |
| Torque: | 305 – 910 Lb-Ft. (est.) |
| Length: | 205.6 to 239.6 Inches (5.22 – 6.08 Meters) (est.) |
| Width: | 80 Inches (2.03 Meters) (est.) |
| Height: | 73.5 – 74.1 Inches (1.86 – 1.88 Meters) (est.) |
| Top Speed: | 150 MPH (241.4 KPH) (est.) |
| Seating: | 2 – 5 Adults |
| Wheelbase: | 119 – 153 Inches (3.02 – 3.88 Meters) (est.) |
| 0-60 MPH (0-120 KPH): | 8 Sec. – 6.5 (est.) |
| Base Price: | $28,400 (est.) |
Sum It Up:
While changes are minimal for the 2018 GMC Sierra, there isn't much that really needed to be changed for the new model year.  The 2018 model will be introduced in late 2017, and we can expect a lot of similarities to the 2017.  It is a very firm and strong option for those seeking a capable and stylish truck to get the job done and be comfortable to live with.  While truck people are pretty stuck in their ways of what model they prefer, the GMC Sierra is a strong choice for any one.