Honda is a very interesting company.  They make everything from robots to air conditioning units.
Usually, Honda is praised for the reliability of their cars.  Their road cars are very useful and safe as can be.  But if you know Honda's Motorsport division, there's a different story.
We'll start with Fernando Alonso, one of the most cursed people in Motorsport and a fantastic driver.
Alonso raced F1 with Honda and McLaren, which he was very successful with as long as the car was able to take the beating…Which sometimes it wasn't.
Fernando's Honda broke down so many times that he traded in the F1 suit for an Indy car suit to get away front the thing.  A huge shame, especially when Honda pretty much ruined McLaren's name in racing.
The car just kept breaking down, and the fact that McLaren, a brilliant company is tied to it, brings down the whole ship.
Then Alonso moved to Indy.  Better, right? Nope.
At the most recent Indy 500, Fernando Alonso raced his car (powered by Honda) and on lap 179 or 200,  He broke down.  Out of the race.  Cursed.  There hasn't been one finish by Alonso in F1, and his teammate has only been able to muster up 13th and 14th place.
It looks like Sauber is next to take the Honda partnership in an attempt to get some cash and an up-to-date engine.  Based on the history here, I can't say it's a good choice.
If that wasn't enough for Honda, they also had a Robot telling drivers what to do and when to do it, including the "Start your engines!" command at the beginning of the race.  Scary and sad at the same time.
But let's talk about Honda's road cars.  Good, right?  For the most part.
If you include Acura, not so much.  The new NSX isn't nearly as legendary (yet) than the old car, the rest of the model range is weak and under designed and just…ew.
Is that an opinion?  Yes.
Anyway, the road cars Honda makes are not all that bad, just hardly unexciting.
Recently, I drove a 2017 Honda CRV and wasn't really excited to drive it, until I started driving it.
The 2017 CRV drove absolutely fantastically. I was so pleasantly surprised by the technology, handling and simplicity.  It was phenomenal.
While Honda's fuel cell dreams kind of get thrown away, their gas powered CRV is still a very impressive car.
Today, we're talking about the 2018 Honda Pilot, which has had a very interesting life span.  I remember when I was kid, and the Pilot was smaller and more economical than it is now.
Now the 2018 Honda Pilot is slotted above the smaller CRV, and has had some significant updates for the 2017 model year.  That means 2018 will be largely a re-run of 2017.  Fair enough.
It still blows my mind that the road cars and the race cars Honda builds are so different in terms of reliability.  How is one so good, and one so bad?  I mean, even the new Civic Si has dialed back its power in the name of reliability.  What are the priorities?
The Specs-2018 Honda Pilot: 
| | |
| --- | --- |
| Vehicle Type: | Midsize SUV |
| Power Plant: | 3.5 L V6  |
| Gearbox: | 6 speed auto/9 speed auto |
| Power: | 280 HP |
| MPG: | Up to 27 Highway/20 City  |
| Torque: | 262 lb-ft. |
| Length: | 195 Inches |
| Width: | 79 Inches |
| Height: | 70 Inches |
| Wheelbase: | 111 Inches |
| Top Speed: | 112 MPH |
| Seating: | 5 Adults |
| 0-60 MPH (0-120 KPH): | 8 seconds |
| Base Price: | $30,700 (est). |
The Exterior-2018 Honda Pilot:
For year before around 2014, Honda's haven't been very exciting. I'll extend a branch to you, the S2000 is awesome, and the old Civics are great as well.  I'm sure I'm missing a few, but you get the point.
Think about the early 2000's, where every car was ugly.  The face of any Honda back then just was painful to be around.  It's pretty sad to say, but that's the truth.
In more recent times, even though the Motorsport thing has kind of suffered, at least Honda's cars look nicer.
My personal favorite of this switch is the 2017 Honda Civic.  That thing to my young mind looks fantastic.
The new Civic is really hard to miss on the road, especially in the surprising slime green color that seems to be more common than usual.
It seems like Honda is taking a lot of inspiration from their luxury make Acura in the design field.  It seems like Toyota is doing the same, which is totally fine. The cars are looking better and better these days.
Honda, between the Accord and the Civic are moving toward a sharper and more aggressive design future.  I do like it, since more young people (like me) will be looking in their direction.
Many of Honda's automobiles are sharing the same general shape up front, which seems to work well.  The sharpened eyes and straight forward grille dawn the front end.  From the Ridgeline to the Civic, you can see the same general shapes.
The 2018 Honda Pilot makes use of this formula this formula as well.
Honda hasn't really stepped out of its lane on this one, which is all fine and well.  The front end has sharp eyes and a bold two or three (depending on how you look at it) bar grille.
It has an eager face, and doesn't look as soft as it has in the past.
The  new 2018 Honda Pilot has much more of a personality to its styling than I remember as a kid.  The old SUV really had a dead face to it, lifeless.  Much like the Chevrolet Malibu did back in 2009.
I'm happy that competition has forced designers to make more attractive cars with personality.
The overall size of the 2018 Honda Pilot has increased dramatically since the years prior.  Now, the CRV is slotted below and the Pilot is more of a family oriented SUV with more space than ever.
the main point of the Pilot is to be a larger CRV and smaller pathfinder, and it does this well.
It is very useful, and even though we won't really see a redesign or refresh for a couple years, Honda is giving us a pretty nice example to hold onto in the meantime.
The Interior-2018 Honda Pilot:
As with any other Honda, we see more function over form on the inside.
Not a bad thing at all, since you want an interior that will work well, over looking good.
There are a lot of car manufactures out there that over complicate interiors like Cadillac, who complimented the CUE system.
If you anything about Cadillac or the CUE system, you'll know how shotty it really is.
While the concept of a touch-sensitive system is very cool and edgy, the whole system in practice just isn't up to par with the real world.
All touch systems have this issue, which is why it is good for manufactures to shy away and create  systems that are comprised of buttons and knobs rather than full touch screens.  If the technology and development isn't more functional than the traditional knobs and buttons, there's no need to replace it.
Honda has taken a bit of a combination to the approach.  The interior of the 2018 Honda Pilot features both a touch sensitive display and some buttons, which seems to work the best in the industry.
Honda is all about functionality, like I said.  The inside is plainly laid out, and it makes things easy to understand. People who buy Honda's aren't concerned with the looks of things (for the most part) they're interested in getting the most bang for their buck.
There is plenty of space and interior amenities for the Pilot's passengers.  You can have rear seat entertainment and climate controls along with headed rear seats.  All rear seats, including the third row, can fold down flat.
For the driver, Honda got rid of the  traditional stick shifter on upper level models.
I usually despise this, but the system seems easy to use.
In the place of the traditional gear selector, there are a series of buttons on the center console in the..shape(?) of a shifter.  The layout itself does seem a bit weird though.
There are much simpler examples of this shifter elsewhere, and the fact that it looks like Honda uses buttons and switches to help shift in the one of the worst places ever for gear buttons just doesn't help.
I've seen this sort of thing from GMC (which is stupid) and now its coming from Honda?
Overall, the only real issue I have with the interior is the shifter.  The rest gets a pass for being as functional and easy to under stand as ever.
Honda made the Pilot from a pretty unique vehicle and made it very slashy and much more like everything else they offer.
The Performance-2018 Honda Pilot:
Another lingering issue Honda has is that they have pretty outdated and under powered engine plants.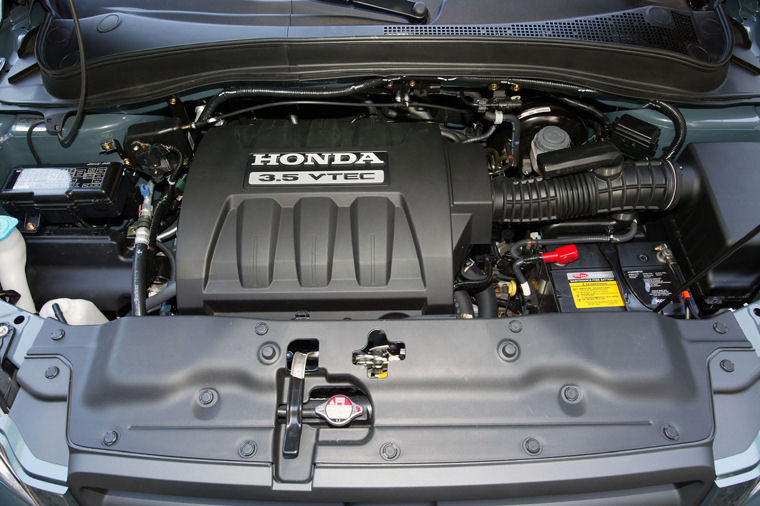 The 3.5 L V6 they offer in most cars and SUV's for the brand just is not up to par with others.  It is a reliable system, as with most Honda's, but that's about it.
Honda's power plants are famous for just being under powered.  There are clear exceptions from the rule, but for the most part Honda and luxury arm Acura just have weak engines.
By keeping the engines well within their operating means and whatnot, that means Honda's road engines are reliable.  Out side of road use, Honda's race engines are a different story.
Since those engines need to perform in extreme conditions and Honda's don't usually do all that, they are not reliable.  You can just ask Fernando Alonso.
Fuel economy suffers from the lack of up to date technology.  There are plenty of manufactures out there that make SUV's and they have better fuel economy and are able to keep up with highway traffic better.
It's really not that bad, but we need more Honda.
Sum It Up:
Honda does have some big issues to fix on itself.
From the failed fuel-cell technology intuitive that seemed promising to the tune of a $85 million investment, to racing cars that make fans shake their heads.  Honda needs some answers.
One way to fix this is to bring a cool and actually functional S2000 back.  Right?
Honda's new Civic Si and Civic Type R should bring some awesome excitement to the brand, but not the Pilot.
The Pilot's shift from a smaller SUV to one of the brands larger offerings is interesting, and obviously the popularity shifted as well.  Many complain the new SUV is too much like others on the market, others praise it for being larger and functional.
There are a few different configurations in the Pilots lineup from EX to LX ensuring everyone is taken care of.  The shift in transmissions from a 6 speed to a 9 speed is pretty substantial, and noticeable as one of the changes between trims.
Overall, go for the Pilot if the CRV is too small for you, and the Pathfinder is a bit too much.  There are plenty of other options in the world, so never limit yourself.
The 2018 Honda Pilot will be released in the fall this year, with a similar starting price around $30,000 for a base model.