I've said this many times before. Nissan is a very interesting car manufacture.
On one hand of things, Nissan makes some of the most boring and dull cars on the face of the planet like the Versa and boring SUV's like the Murano or whatever…
This face of Nissan really gets battered and while people still buy them, there is legitimately no excitement about them what so ever.  If you want a kitchen appliance to get you from A to B, get a Nissan.
On the other side, we have the most opposite flip of events ever.  I'm not sure who is responsible (or who to thank) for the Nissan's called the GTR and 370Z or any new Nismo edition to the current car line up.  They really know enthusiasts it seems.
It really blows my mind that Nissan is the same company that makes the Versa and the GTR.  I'll never understand that honestly.
Anyway, Nissan's cars are very good at what they're built to do, even if that is to be the most boring thing on the road.
Taking a look through Nissans history with the legendary Group C cars, rally cars and Silvia's, you'll realize how sad the current day Nissan is.  Not to mention to Skylines of the past.
The GTR is an amazing car and deserves it's own article or two, but it has gotten more expensive and in effect less obtainable over the years.  Plus, we most likely won't see a new car for a number of years.
I want to bring Infiniti into this as well, since Infiniti is starting to get their act together.  However, it seems every cool car they try and produce, they quickly shut down.  Think about the Infiniti Q50 Eau Rouge and the Q60 Project Black S.
Nissan points to financial issues to why they don't produce those cars.  But then they go ahead and make the ghastly Murano CrossCabriolet and I can't help but think there are some serious mental issues over there at Nissan.
But, they do make something that is getting outdated, but still great. And that is the Nissan 370z and 370z Nismo.
| | |
| --- | --- |
| Vehicle Type: | Sports Coupe |
| Power Plant: | 3.7 L V6 |
| Gearbox: | 6 speed manual / 7 speed automatic |
| Power: | 350 HP |
| MPG: | Up to 26 Highway/19 City  |
| Torque: | 270 Lb-ft – 276 lb-ft. |
| Length: | 167 – 171 Inches |
| Width: | 73 – 74 Inches |
| Height: | 52 Inches |
| Wheelbase: | 100.4 Inches |
| Top Speed: | 155 MPH |
| Seating: | 2 Adults |
| 0-60 MPH (0-120 KPH): | 5.4 – 4.9 Seconds |
| Base Price: | $30,000 (est). |
My Experience:
It is a sad reality that Nissan as a brand is not nearly as exciting as it used to be.  Even from Infiniti, I do hope that the parent companies get their heads together and make cars that the founders would be proud of.
That aside, I can talk about my experience in the new Nissan 370z Nismo.  One of the best cars I've ever driven.
I had the opportunity months ago as I work for a large dealership network, and the Nissan store graciously let me review and drive the 370z Nismo.
The sky was getting dark when we arrived and prepared the car to be driven.  It had to be charged since the battery was slat, but we were eventually talking about the car outside of the dealership.
It was a lovely sight, really.  The black car with red stripes growled outside as I adjusted my racing-spec seat in the cockpit.
We went over performance specs and different features of the car before we hopped in and began to pull away.
Immediately you could tell the car was hard core and stiff as ever.
Talking about the body work, it is leaps and bounds ahead of the standard Nissan 370z.  The front bumper is reshaped to take hold of the air going around it with super intense ground effects.  The side skirts are just as insane looking.
The rear end has to be the best part.  You can get either a rather reclusive spoiler (compared to the rest of the car) or a larger boy-racer style.
The rear bumper is slatted open for air flow, and massive dual exhaust tips exit the car.
Nissan's 370Z NISMO is really a spectacle and makes its presence known on the road.  The massive red brake calipers and forged rims help this as well.
Overall this is a great look for the Nissan 370.  The car in its standard form is getting to be a bit dated, so this new NISMO edition looks a lot better and more up to date.
Mechanically speaking, the engine and transmission are kind of outdated, but they don't really feel like they are.  The transmission could definitely be much faster with something like a dual-clutch set up, but it fairs decently.
Getting up to speed and shifting close to red line really shows the transmissions age, as the response from the paddle operated shifters is a bit delayed to when the car actually shifts gears.  I'm sure that this delay can be fixed by not being a wimp and just driving the manual, but I drove the automatic so here I am today…
The Exterior-2018 Nissan 370z:
As I kind of touched on before, the 2018 Nissan 370z is a bit of an outdated design, but it still looks good today to an extent.
Given that it still is a good looking face, and the nature of Nissan, I can't see them in a rush to remodel the car.  Which I'm not a fan of, as I'm sure a lot of people agree.
However, the 2018 Nissan 370z is a pretty sports coupe.  The standard car has a much more conservative front end with minimal flare.
There is a lot of room for improvement here, but it isn't horribly outdated.  Kind of the same thing you get with the Maserati Gran Turismo.  An old design but not old enough to force an update.
Nissan's 2018 370z has a very recognizable side silhouette that has developed over the years.  Form a classic with the 240 years ago to the more recognizable (by younger folk) sloped roof of today's car.
The first thing I really think of (and I'm not old enough to remember the original Fairlady) is the early 2000's 350z and the pop culture influence it had.
I played a lot of Midnight Club and Need for Speed growing up, and of course watching the original Fast and Furious movies.
This is where I originally got introduced to me, and all of the cars in that sort of tuner light really took over the car scene.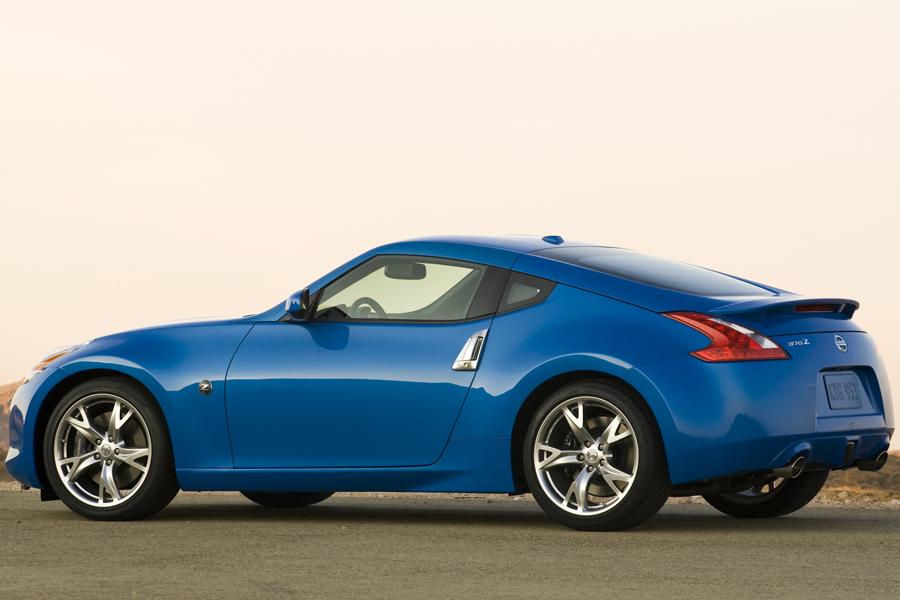 The great thing is that unlike Mitsubishi, Nissan still offers the 370z and offers the Nismo edition for those who want that bit of nostalgia.  Whereas Mitsubishi just decided to kill every cool car they ever had.
Overall the Nissan 370z's exterior is iconic and still works well.  However I do think we're due for a redesign.
The Interior-2018 Nissan 370z:
If you have an eye like mine, you'll immediately call the interior of the Nissan 370z and Nismo edition outdated.
You wouldn't be wrong since it is pretty old, but this is again something that doesn't really need to change.  It's not all fancy and decorated with wood because that's not what the car is all about.
The Nissan 370z and Nismo edition are made for the driver and the driving experience.  And that is something the cars interior echoes very well.
You get a big tachometer in the middle of the dashboard and some secondary gauges just above the infotainment screen.  True tuner fashion.
On the manual-equipped 370 you get a perfectly sized stick in the middle of the console and on the automatic, you get a more traditional shifter with paddles on the steering wheel.
As I said before, the paddles are a bit slow to react and you need to find their sweet spot, but power delivery and pantomime is great.
The 370z Nismo gives you fantastic racing seats that really put you in control.  Upon sitting in the car I instantly felt how serious is was.  Almost like strapping into a roller coaster that you control.
There isn't much interior space although there is a small cubby on the center dash in some cases for small items.
Overall I do love the interior.  The 2018 Nissan 370z doesn't really have any new tricks up its sleeve, but the car is focused and drives like it is.  Truly a great experience.
The Performance-2018 Nissan 370z:
The Nissan 370z makes use of some outdated technology.  However it still punches high with the rest of the more up to date competitors.
Nissan still makes use of the 3.7 L V6 they have used for quite some time now, and it still works well.  Producing 332 to 350 horsepower and a slightly lower 270 – 276 pound feet of torque, the 370z can do a sprint from a stand still to sixty miles per hour in 5.1 to 4.9 seconds depending on what trim you get.
This is a pretty quick car, and it is very eager to pick up speed.  I loved driving the car and there are a ton of people who agree that the 370z is a fantastic drivers car any way you spin it.
That's why I call the Nissan 370z Nismo the baby GTR.  It has the right formula and execution in a very potent package.
 Sum It Up:
The 2018 Nissan 370z is a fantastic car all the way around for the driver.  While it isn't the most practical in most cases, the car knows what it is made to do.
I can't help but long for a new redesigned 370z as the current one is aging a lot.  It isn't aging bad, but a healthy refresh should be on the horizon.
Plus unlike the GTR, the 370z is actually priced decently at just under $30,000.  This makes it very obtainable, and a great bargain at that.
If your circumstances allow you to, I suggest you pick up a new 370z.  The new car may be redesigned soon, which means the price will go up.  So get it while you can!