Rolls Royce is a very interesting brand if you zoom out from the Uber-Luxury that every Rolls Royce has packed into its massive body work.
They have had the same design language for seemingly 100 years, they're ginormous, and you'd be lucky to get a new model under $300,000.  The insanity that is Rolls Royce just never ceases to amaze me.  Rolls Royce cars aren't ultra-modern looking cars, yet they are every bit as relevant as they've ever been.
In the crazy luxury market, Rolls Royce says their only competition comes from non-cars.  For example, helicopters, planes, yachts, that sort of thing.  Rolls Royce insists that Maybach and Mercedes aren't direct competition.  Truly next level stuff.
But, to further capture the crazy rich people into a Rolls Royce product, the double R is rolling out something very interesting.  We call it, the 2018 Rolls Royce Cullinan.
The Cullinan comes from years and years of the SUV market getting more and more inflated.  More people are buying SUV's than ever before, which is saying something.  This fact is being echoes through the upscale car manufactures like Porsche, Bentley, Mercedes and even Lamborghini.
Car manufactures are building more variants and styles of SUV's to feed into the demand.  This want for massive SUV's is leading Lamborghini to build the Urus, Bentley to build the Bentayga, and Rolls Royce to build the Cullinan.  Brands we never thought would build big SUV's are now taking on the hobby.
The Specs-2018 Rolls Royce Cullinan:
| | |
| --- | --- |
| Vehicle Type: | Luxury SUV |
| Power Plant: | Not Yet Available  |
| Gearbox: | Not Yet Available |
| Power: | Not Yet Available |
| MPG: | Not Yet Available |
| Torque: | Not Yet Available |
| Length: | Not Available |
| Width: | Not Available |
| Height: | Not Available |
| Wheelbase: | Not Available |
| Top Speed: | Not Available |
| Seating: | 5 -7 Adults |
| 0-60 MPH (0-120 KPH): | Not Available |
| Base Price: | Upwards of $300,000+ |
The Exterior-2018 Rolls Royce Cullinan: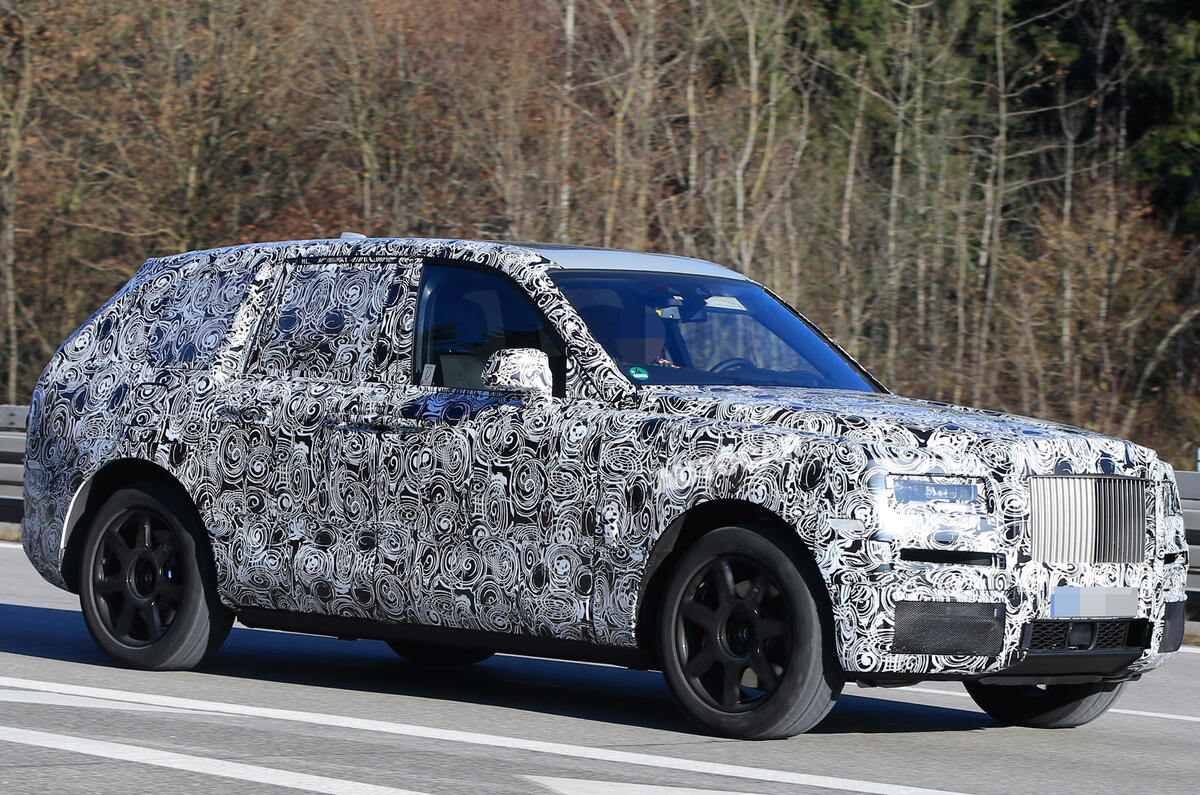 Rolls Royce again, is an interesting spectacle when it comes to design.  All Rolls Royce models look nearly identical to each other, which as history has made out, is not a bad thing at all.
Rolls has one of the most iconic and recognizable faces on the planet.  The classic square headlights and massive square grille dawn every model in one form or another.  The only real difference being a slightly rounded-off look to the Wraith and entry-level Ghost.  Whether or not you can call the Ghost an entry-level car for $295,000 is up to you.
As for the 2018 Rolls Royce Cullinan, I can't think of a more copy-and-paste culprit than this.  I'm not saying it's ugly, but it's legitimately a Phantom that packed on some weight.  You're not fooling anyone.  But does it matter what I think?  Nope; the people that can buy one legit do no care.
While most of the photos available for now of the Cullinan are spy shots where the car is fully decked-out in camo, we can infer and interpret a bit.
The front will be a Phantom's front end, plain and simple.  Super boxy and executive looking.  As for the side, Rolls Royce always has a long, gradient slope to the roof line that widely visible here.  While it is no where near production ready, you can see the classic slope-iness.
The rear end is far from production-ready.  Nothing we can really see from the rear end unfortunately.
However, there's an important bit on information I want to bring to light here.  Rolls Royce does not classify the Cullinan as an SUV.  They say it is not a sporty vehicle, and it is not for utility.  They call it a "high-bodied car".  The final product will be without a doubt very interesting.
The Interior-2018 Rolls Royce Cullinan:
Rolls Royce also likes to design their interiors nearly identical to each other as well.  All the models share much of the same frame work.
But, this is severely over shadowed by the face that every Rolls can be customized to the absolute extreme.
While we have no idea what the inside of the 2018 Rolls Royce Cullinan will really look like, we can again make some assumptions.
Plenty of wood and leather to make your head spin.  The center stack and overall interior layout actually looks like it will work very well in an SU-sorry, high-bodied car setting.
Whether or not Rolls Royce will really introduce anything truly ground breaking will remain to be seen.  As for now, we have to just wait.
This new high riding car will most likely seat five to seven passengers, depending on the actual body style of the vehicle.  If it is a car, most likely five.  If it is (forgive me Rolls Royce) more of an SUV style, we can shoot for seven passengers.
The Performance-2018 Rolls Royce Cullinan:
The 2018 Rolls Royce Cullinan will most likely sport a V12 or larger engine.  Rolls Royce uses these massive engines to help produce the most smooth ride and operation possible from their vehicles.  And this formula has worked for years and years.
While it is difficult to immediately call what the power plant for the 2018 Rolls Royce Cullinan will be off the bat, V12 is a strong assumption. 
Most likely powering all four wheels, the V12 engine may actually be assisted by an electric motor, as Rolls Royce moves closer to their Vision 100.
Expect horsepower figures to be close to, if not above 600.  That means that the Cullinan will be right on par with the Bentayga in terms of horsepower, torque and performance figures (but cost twice as much).
Sum It Up:
Rolls Royce has a very definitive clientele, and they know that.  Their market called for a…high riding car, so they're making one.
With the starting price of (unsurprisingly) $400,000, I don't think very many of us will be able to afford one.  However, we can all marvel at the pinnacle of automotive luxury that the Cullinan will be.
Look for a release date in 2018 as a 2019 model year vehicle.