Memories
The Dodge Viper is and has always been an underestimated and under-appreciated piece of American engineering.
It was a lovely grand touring sports car for years, and embodied the American spirit of motoring in a great way.  It grew and grew over the years, and really put a great spin on American performance cars, which were usually muscle cars.
Maybe it is because I'm American, but I love the Viper and always have.  Its outrageous V10 engine and incredibly unique design made it a staple for the last 25 years, with a few interruptions.
It seemed like the latest Dodge Viper (made by SRT) would be the comeback of the century and pit the Viper against Europe's best.  Things seemed very promising when the Viper ACR did incredible things around the track in both of its generations.
The 2016 and finally the 2017 Dodge Viper featured an 8.4 liter V10 engine that pushes out 645 horsepower and 600 pound feet of torque to the rear wheels.
Dodge's Viper is a legendary machine by any account, and started right around $90,000.
However, plenty of great history, plenty of power, and style couldn't keep the car alive.
FCA sold 630 Vipers in 2016, which is down 8.7 percent from sales in 2015.
The low sales and new safety regulations that go into effect September 1st 2017 have ended the Viper.
The Plant Is Dying Too:
Production officially ends in August and the Connor Assembly Plant where the Viper is hand-made will also shut down on August 31st.
The Connor Assembly Plant was FCA's smallest plant in the USA, which makes sense since it pushed out so little cars and had so much attention to detail.
A feel-good detail is that once FCA announced the Viper was going out of production, they actually had to halt orders for the car since they received so many of them.  They got worried they would run out of parts for the car.
A Send-Off: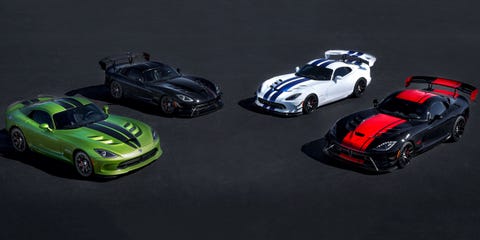 At the end of its life, Dodge offered five different special edition models of the car to make sure it goes out with a bang.
There is a 1:28 edition ACR which is made to commemorate the 1:28 record lap time at Laguna Seca, the GTS-R commemorative edition, VooDoo II Edition ACR, Snakeskin Edition GTC and Dodge Dealer Edition.  They really didn't hold back.
All of the special editions were sold out in a matter of weeks, and some sold in a matter of hours of being available. Some sources point to this being a side effect of collectors snatching up the last bit of cars available.
The Viper ACR 1:28 edition features a black exterior with red ACR stripes like the car that set the historic lap record. It also features an extreme aero package, carbon ceramic brakes and of course a ton of 1:28 badges.
Special editions of this sort make me happy and it seems like the correct way to send off a fantastic car like the Viper.
Wishful Thinking:
I, like so many others like you,  are sad to see the Viper go.  It also seems like Sergio Marchionne also agrees by saying this: "The Viper was, has been, a labor of love. Given the architectural development within the brand, there is a possibility that a new version of the Viper may surface. Whether it will surface in time [to replace the current car] is unclear to me."
After that statement, however, Marchionne said that the exclusive architecture of the Viper doesn't make sense to him.  Which indicates that the next Viper (if there is one) will share a platform with something else.
This doesn't make sense to me.  Especially coming from the boss of Ferrari.
One possibility is that the car could feature an Alfa Romeo chassis that has yet to exist, but that's largely speculation for now.
The Dodge Viper is an American staple and I do hope it comes back sooner than later.  I am genuinely shocked it didn't sell well, but at the same time I don't think it gained traction with the Corvette Z06 that came out around the same time.
The Z06 offered an automatic transmission, and I'll venture to say that people preferred the automatic to the manual, generally.
Maybe the timing will be better when the next Viper comes out, which I do think will happen eventually.  I can't see the Viper being something that is killed off for good.
Back to the plant that is closing down, all 80 or so employees at Connor are expected to be offered a job elsewhere at FCA which is nice to hear.  The plant closing is apparently permanent, so there goes any bit of hope for a quick come back.